Bring Our Team of INDUSTRY Experts to You
We have a long standing success track record and over 50 years of combined salon and spa growth.
We've actually run, built and even turned around salon and spa that were about to close their doors.
No matter what's going on in the economy, no matter the season, you can have a successful, thriving salon or spa.
If you're serious about mastery, massive growth, location expansion, franchising, selling or profitable exit plans, consider a Strategic Planning Day.
Our team of experts flies to you and works with your entire staff to assess what's broken or needs refined, meeting with each and every team member privately, leading team meetings to help get your entire team on the same page, powerful front desk training and one-one-on leadership strategy between you (the owner) and our top consultants.
Strategic Planning Days are perfect for the owner that is incredibly ambitious and motivated to get to the next level and is willing to put in the effort–no matter their current level right now!
"My coach Meg and the Empowering You® team is continually helping me create the business of my dreams; helping me develop personally so I can be a better leader has taken my salon culture to new levels. From inception to implementation they have helped me map out a continual plan for company growth. We have increased our revenue over 10% and are on target to exceed our revenue goal for the year. If you are serious about intentionally shaping your life and business I highly recommend bringing Empowering You® in to help."
Ways to increase sales + profits
Strategies for stronger client retention rates
Front Desk Bootcamp
Effective referral marketing
Productivity, systems and streamlining processes
Driving culture and team building
Creating incredible customer service
Leadership and team training
Setting the non-negotiable standards for your company
Real-time, individualized success strategies
One-on-one staff coaching
A detailed action-based Velocity Plan to keep you moving forward after we're gone!
We customize your experience based on your individual needs and the business breakthrough you're craving.
Up-level your business with a Salon Makeover!
Empowering You at Governo Salons
Strategic Planning Days are VIP days designed especially for those who want private hands-on access to our INDUSTRY mentors. You'll get our team of specialists observing the in's and out's of your processes, evaluating what's working and what's not, developing ways to make you run better, faster and more profitably.
DURING YOUR MAKEOVER, WE'LL DO THE FOLLOWING:
Evaluate your systems — what's working and what's not — and determine what's missing!
Follow the daily flow of customers and watch how they interact with your staff and stylists.
Find your Profit holes and missed money opportunities.
Make recommendations on how to create a more profitable Front Desk–the money hub of your business.
Develop unique strategies to help you increase your ticket price.
PLUS – you can upgrade to work one-on-one with Amy Carter, CEO of Empowering You Consulting and Million Dollar Salon Owner, to develop an individual plan for growth.
Amy Carter's goals as a coach are simple: to inspire you to become a better leader, to mold you into a smarter business owner, and to help you achieve personal and professional satisfaction. As the owner of one of Indiana's top salons, she knows what it takes to reinvent a business and train a leadership team that's invested in long-term success. Amy has turned this knowledge into a passion for coaching, and as Co-Owner & Founder of Empowering You Consulting, she helps salons and spas across the nation every day.
It's time to let Amy help you expand your client base, increase profits, operate more efficiently, and train a team of leaders so you can gain personal satisfaction from your professional endeavors.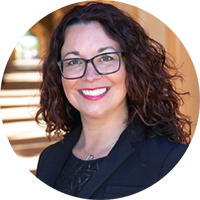 Ready to to Run a Smarter Salon/Spa?