Meet Your Personal Dream Team of Millionaire and High-Revenue Salon Owners and Nationally Recognized Coaches + Trainers
Principal and Founder of Empowering You Consulting
Amy Carter's goals as a coach are simple: to inspire you to become a better leader, to mold you into a smarter business owner, and to help you achieve personal and professional satisfaction. As the owner of one of Indiana's top salons, she knows what it takes to reinvent a business and train a leadership team that's invested in long-term success. Amy has turned this knowledge into a passion for coaching, and as Owner & Founder of Empowering You Consulting, she helps salons and spas across the nation every day.
It's time to let Amy help you expand your client base, increase profits, operate more efficiently, and train a team of leaders so you can gain personal satisfaction from your professional endeavors.
Business Consultant and Life Coach
With nearly 40 years of experience in the beauty industry mentoring, training and educating beauty professionals, not to mention 22 years as a Spa owner, Meg understands the challenges and the successes of running and growing a business. Leveraging her business experiences and life lessons as a business owner and lifelong student of the industry, Meg supports others in overcoming their fear of change and in achieving their business goals. Through instilling the value of strong communication skills and a positive attitude, she's able to aid her clients in developing and accelerating the confidence and plans needed for success. She also strives to identify ways to generate new sources of revenue through powerful and creative solutions, leading to a profitable, fun and energetic business. Meg's leadership foresight as a business owner, trainer and technician makes Meg more than a consultant; she's a true mentor and coach.
Certified Consultant | Salon & Spa Owner
For more than 30 years, Jennifer Senn has worked in the beauty industry, starting in a large salon, then making the leap in 2006 to open Senn-sations Salon and Day Spa in Randolph, NY. In addition to serving her clients, she's branched out to including work in the entertainment industry, from filming hair care commercials in her salon to appearing on Style Network's Split Ends, and volunteer work with the American Cancer Society's Look Good Feel Better program. Today, Jen spends three days a week behind the chair and uses her remaining work time to help salon and spa owners and service providers realize success in their respective businesses. As a consultant and business coach with Empowering You, she is able to have an impact on the industry where she's thrived.
Certified Consultant | Salon Owner
The daughter of a salon-owner, Kim Gibson has the beauty industry in her blood, so it was no wonder she opened her own salon. It was also no wonder it felt like a ball and chain until she received coaching and revolutionized how she does business. After seeing the results Empowering You delivers – she experienced 75% growth in just one year – she joined Empowering You as a consultant. Now she works to show other salons the strategies and tips that resulted in her impressive growth. She and her husband are active with a number of churches in her area and launched Embrace, a Christ-centered nonprofit that mentors young people.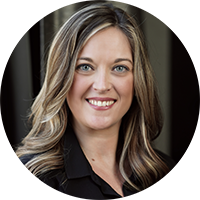 Courtney brings 7 years experience in customer service to her role as Executive Assistant at Empowering You Consulting. Her commitment to delivering exceptional support to the Empowering You Team introduces a level of efficiency that has a positive impact throughout the company. She holds a Bachelor of Science degree in Psychology from Eastern Illinois University and brings a hunger for success to her role at Empowering You Consulting.
Baylee is passionate about connecting and engaging with individuals who want to succeed in their business and in life. She is driven by creativity and problem solving, and loves supporting Empowering You to build strong, genuine, and long-lasting connections with their clients. Her role includes implementing marketing campaigns, creating the monthly training webinars, growing Empowering You's social media presence, and assisting at live events. Baylee holds a degree in Marketing and Sales from Indiana University Southeast and is a key part of the EYC team.