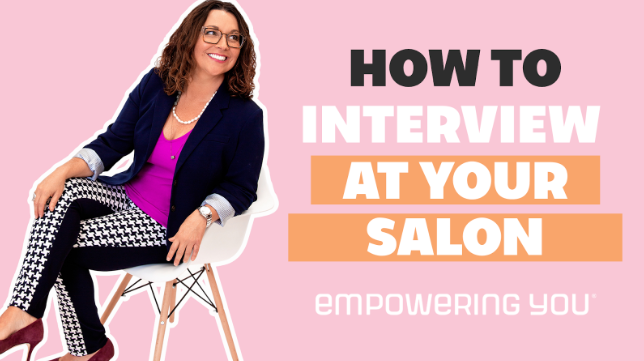 Hiring new stylists is a crucial part of running a successful salon.
But let's face it – finding the perfect fit can be a challenge. You want someone who not only has the skills to create fabulous hair, but also has the personality to fit seamlessly into your salon's culture.
That's why we've put together this video to help you nail your next stylist interview. We'll teach you how to ask the right questions, onboard read body language, and spot the warning signs of a potential hire who's not a good fit for your salon's culture.
Start with a Comprehensive Job Description
Before you start the interview process, it's important to have a clear idea of what you're looking for. Create a comprehensive job description that outlines the skills and qualifications required for the position, as well as the personality traits and values that are important to your salon's culture.
When it comes to interviewing potential hires, it's important to ask open-ended questions that give them the opportunity to share their experiences and personality. Avoid yes or no questions, and instead ask questions that encourage them to share examples of their work and how they handle certain situations.
Body language can tell you a lot about a person's personality and how they'll fit into your salon's culture. Look for signs of confidence, enthusiasm, and engagement during the interview. Pay attention to their eye contact, posture, and facial expressions, and trust your gut instincts.
While it's important to focus on the positive during the interview, it's also crucial to watch out for warning signs that a potential hire may not be a good fit for your salon. Look for signs of arrogance, negativity, and a lack of enthusiasm for the job.
Of course, it's important to evaluate a potential hire's skills as well. Ask them to bring in a portfolio of their work, and ask them to demonstrate their technique during the interview. This will give you a better idea of their skill level and whether they're a good fit for your salon's clientele. In addition to their technical skills, how are their people skills? Do they have selling skills to sell clients on their professionalism? Do they have what it takes to sell additional services and retail? These are essential traits that every candidate needs to join your team.
By following these tips, you'll be able to conduct interviews that not only help you find the perfect stylist for your salon, but also help you build a team that's cohesive and works well together. So, whether you're on the hunt for a colorist extraordinaire, a master of the updo, or any other type of salon superstar, you'll be well-equipped to find the perfect fit for your team. 
Need help with hiring in your salon or spa?
Sign up for a complimentary strategy session with an Empowering You Coach and we'll help you create a plan to up your hiring game.