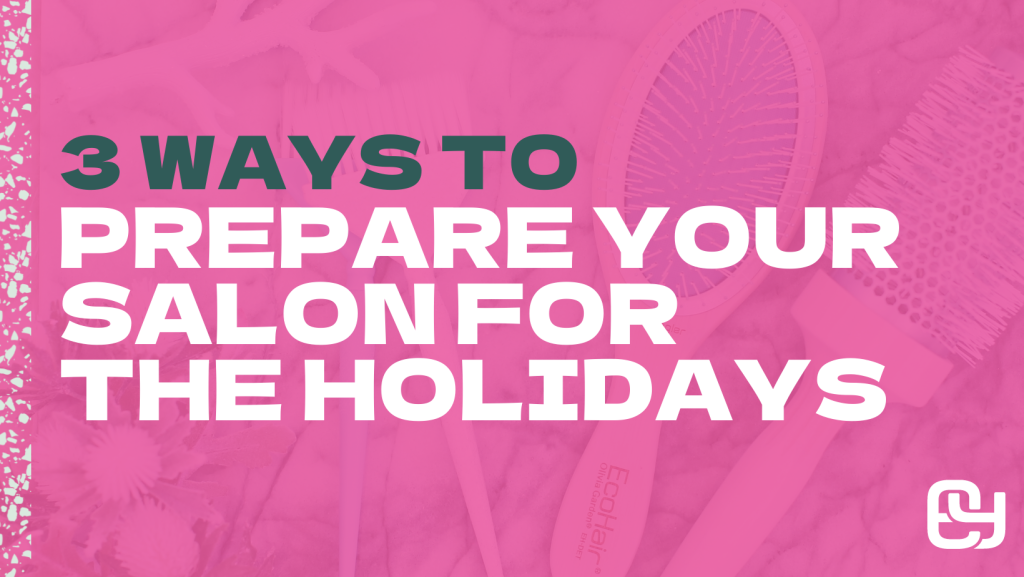 Holidays in the beauty business are always a hectic time – not only are clients clamoring to get glammed up before seeing family, but you and your team deserve some well-earned time off as well!
It's the most wonderful time of the year… or the most insane, depending on how you look at it. Either way, it's an opportunity to close the year strong and draw new clients into your business.
Here are some quick tips to help prepare for the holiday rush:
Get Your Logistics Covered
First things first, are you stocked and ready to go? Some questions to ask yourself (and I'm sure you can come up with more)
Do we have enough product and gift cards? They are always big sellers during this time of year.
Do we need to hire any extra staff for the holiday season? Especially at the front desk where things can get a bit busy.
When do you want to hold your holiday open house? (Yes, you should hold one!)
Do we have the right decorations? Who is decorating and when? Do you need to purchase any holiday gift wrap, shopping bags, or cards? (You may also want to grab some stuff for your displays at the end of the season when everything goes on sale, in preparation for next year.)
Determine Your Promotions
This is a great time to get creative about what you offer your clients.
Ramp up your retail. Clients are in gift buying mode – consider BOGO offers on retail products and other easy sellers
Offer special service packages. Do you want to offer anything special for the holiday season? We do a fun "melt away" service so our clients can step away from the hustle and bustle and relax a little bit.
Celebrate Your Team
Your team is actually your #1 customer. Happy team = Happy guests. Without them, you have no business, or at least not much of one. How will you and your team celebrate all of the amazing hard work you put into this holiday season being a success? Having some team fun during the holidays to combat the exhaustion of the rush is SO important.
I love the element of surprise in December. The simple things brought my team joy. (Yes, often it was food!) Here are some ideas:
Lunch provided on a busy day
Favorite coffee day.
A large jar with a variety of breath mints and gum for the backroom
Personal appreciation notes
Bonus holiday commission incentives
Personalized jewelry from Etsy
What are you and your team doing to celebrate the holidays? We'd love to hear from you! If you want more ideas and tips, be sure to follow us @empoweringyouconsulting.